Finding wellness with Sian Lewis
Award-winning blogger and travel journalist Sian Lewis fell in love with Costa Rica's wealth of wellness experiences. Here, she explains why exploring this laid-back country is so good for the mind, body and soul…
Have you ever heard of pura vida? Translatable as 'the pure life' or 'the simple life', pura vida is the closest you'll get to a national philosophy based on wellness – and in Costa Rica, it's a way of life. However you choose to define wellbeing, you'll find it in Costa Rica – it's a mecca for yogis, surfers and walkers, a home of natural living and organic eating, and an astonishingly beautiful corner of Earth, where tall mountains rub shoulders with lush jungle, hot springs and miles of pristine coastline…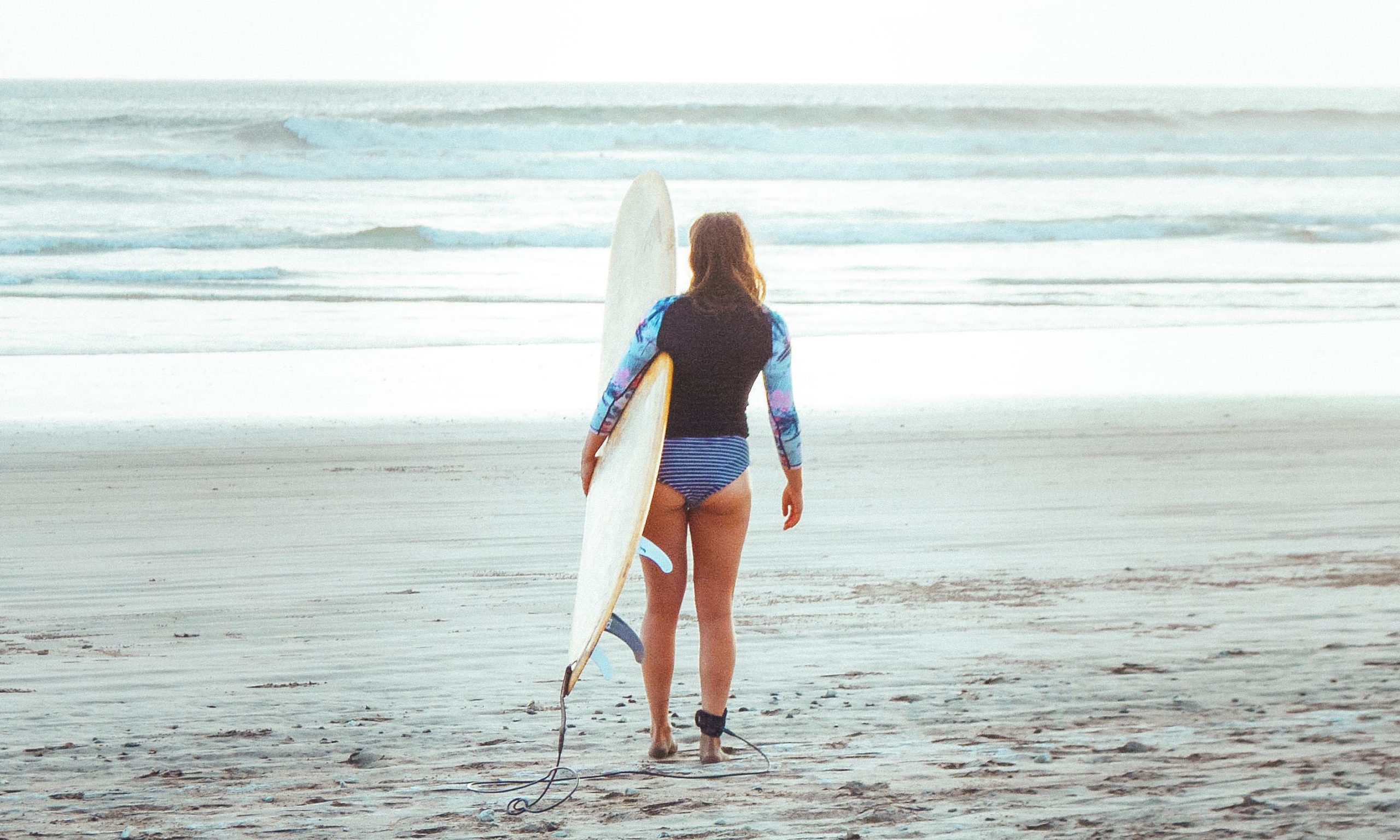 Ready to find a state of calm? Make Nosara, Costa Rica's wellness capital, your first stop. This pretty, laid-back coastal village, where the shore is lined with surfboard rental shops and dreamy yoga shalas, is the perfect base if your idea of a wellbeing escape consists of sea, surf, yoga, repeat.

Surfers, after all, are known for being pretty relaxed – and whether you're a seasoned pro or a total beginner, the warm water and reliable surf of Costa Rica's Pacific coast is the perfect place to practise the mindful art of wave catching. Nosara has plenty of chilled-out hideaways to hole up in, but my favourite is Harmony Hotel. It's as relaxing as its name suggests, with rooms dotted among tall palm trees and a little sandy path leading straight to Guiones Beach – and like all the best hotels and hostels in Costa Rica, it's run on planet-friendly principles. Guests practise yoga each morning in Harmony's open-air shala and can borrow one of a quiver of boards for an afternoon in the ocean. I headed for the surf one evening and got to experience another famous side of Nosara – the incredible sunsets that grace this coastline, turning the sand pink and the water golden, silhouetting local surfers on the rolling waves.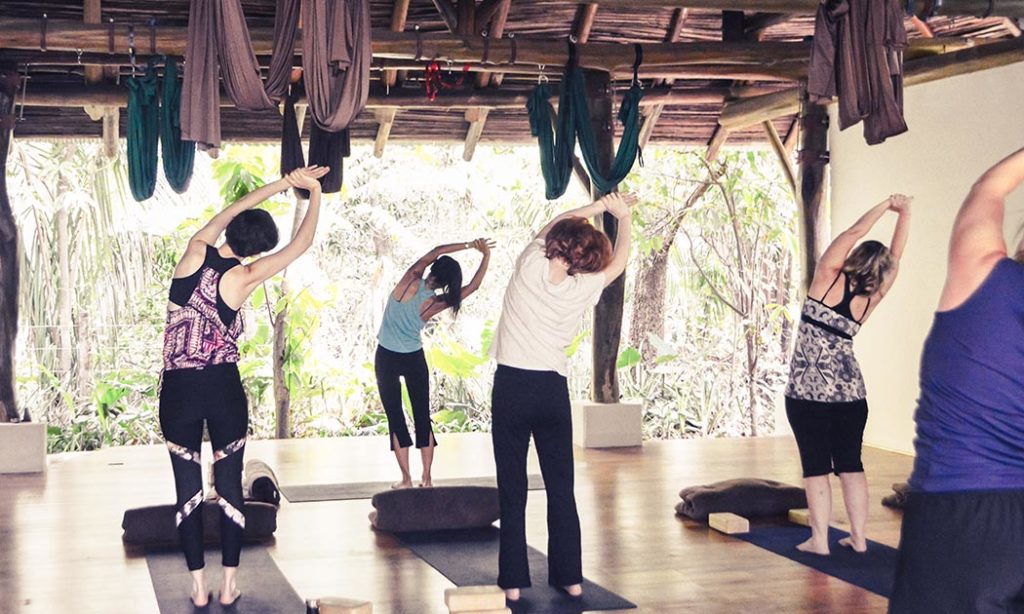 Both mind-calming and limb-stretching, surfing and yoga go perfectly together. There are few corners of Costa Rica where you won't find a local yogi willing to teach you the moves, but Nosara is home to many of the country's bendiest experts. Whether you want to escape for a week-long retreat or pop in for a quick one-off class, there's many places in Nosara where you can easily downward dog your way into a deep state of relaxation.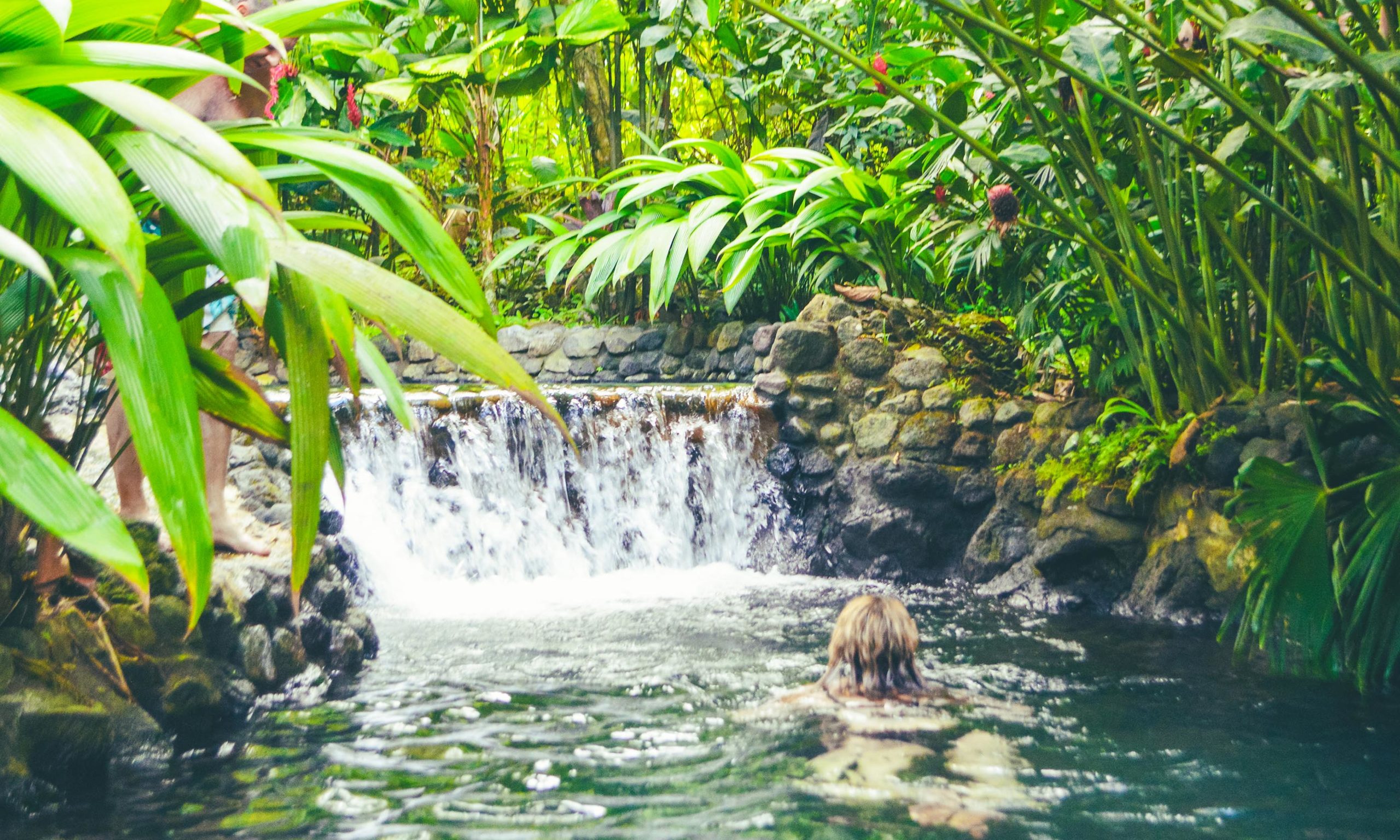 Pounding the surf or hitting the yoga mat is a pretty active way to mindfulness – but there's a corner of Costa Rica where the only thing to do is lie back and let your worries float away. Along the Tabacon River, a series of deep pools formed by natural hot springs are half-hidden among the jungle foliage. The water is said to have healing properties – one thing's for sure, swimming in the deliciously warm water and dipping under waterfalls is guaranteed to ebb away all your stresses or worries. The easiest way to go hot spring-hopping is at the rather luxurious Tabacon Resort, but there's no need to stay the night at this rather glam hotel in order to explore the beautiful rainforest pools – you can also access them as a day visitor. Costa Rica's hot springs resorts are also wonderful places to stop for a physical wellbeing boost, such as a massage or a treatment using local ingredients – cacao foot rub, anyone?
Walking in the wild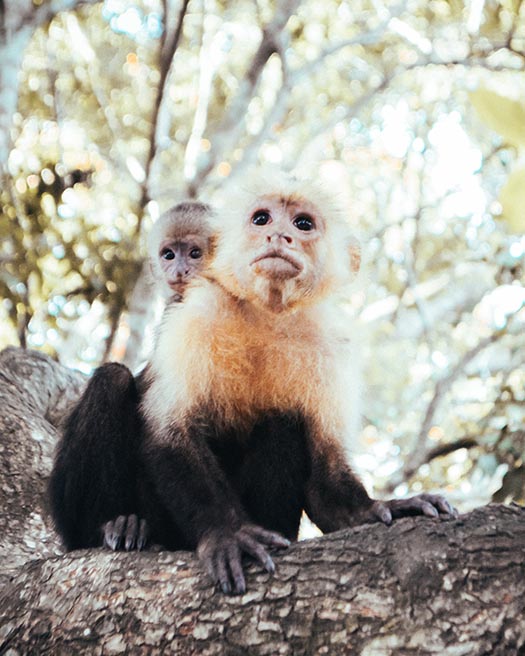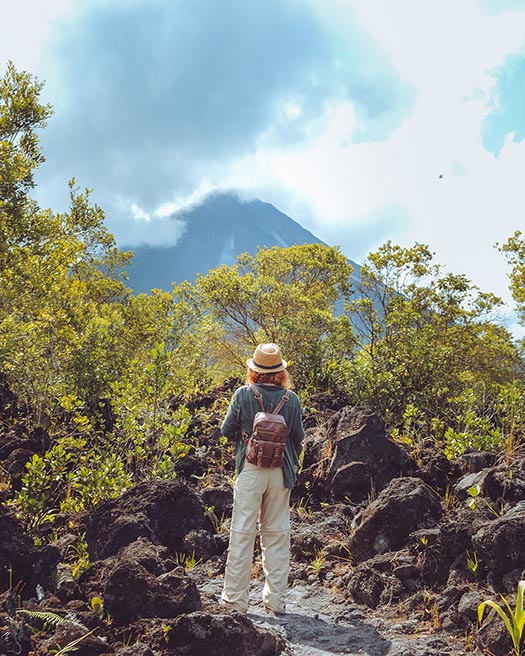 Costa Rica is a country where you can easily hike your way to happiness. Safe and plentiful marked trails criss-cross no less than 30 national parks, making this the perfect place to explore on foot, with or without a guide, and find peace of mind in the wild. The concept of forest bathing (the art of finding calm among the trees) may originally be Japanese, but it works perfectly in Costa Rica – or perhaps that should be 'jungle bathing'. Or you could try 'earthing' – walking barefoot as a way to reconnect with the natural world through the ground beneath your feet. The difficult part is choosing where to hike – the cool air of the cloud forest is a must, the Manuel Antonio National Park is the perfect place to experience the rainforest on foot, and anyone with summit fever can conquer Mount Chirripo, Costa Rica's highest peak at 3,820 metres.
Hiking mindfully in Costa Rica comes with an added bonus – catching a glimpse of the bright and beautiful local wildlife. Toucans with neon-bright bills fly overhead and capuchin monkeys cavort in the trees, some with tiny babies clinging tightly to their backs. If you're lucky, you may even spot a sloth hanging upside down from a branch while he checks you out.
A farm-to-table philosophy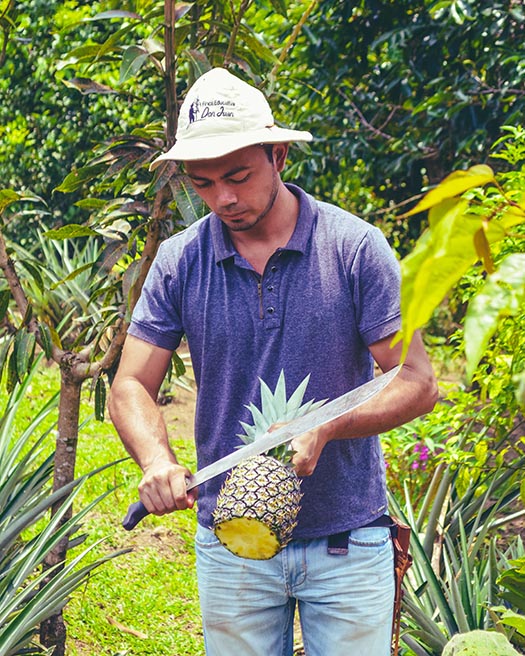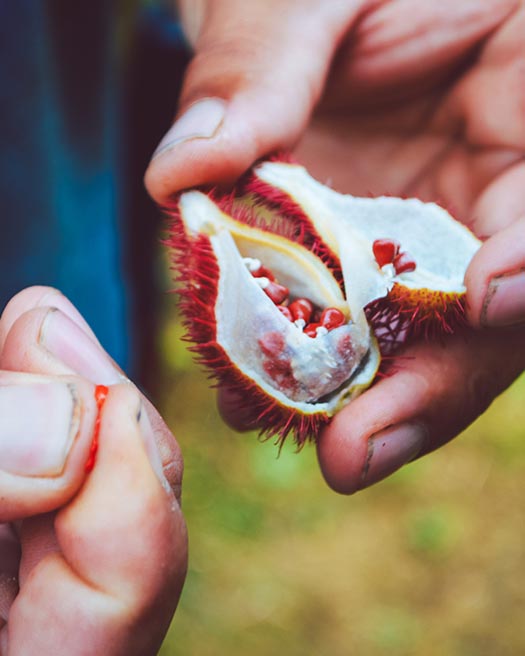 Any wellness expert will tell you that what you put into your body will have a big impact on how you feel – but that knowledge comes naturally in Costa Rica, where the lush land grows everything from coffee to corn to cocoa beans, and where there's a real emphasis on using simple, seasonal and organically-grown ingredients every day.
There's nowhere better to experience eating local than at one of the country's many eco-farms, such as Finca Don Juan in Fortuna, where fields ripe with organic produce lie almost literally in the shadow of the Arenal volcano. Don Juan himself is all about farm-to-table eating, growing indigenous plants just a few metres from the farmhouse where visitors are served them up for lunch – this is food with a carbon footprint of zero. We walked the neat rows of lettuces, spiky pineapples and yucca, picking the produce that would later be our lunch. "Try this!" Our guide held out tiny, rosy-hued berries I'd never seen before, and instructed us to chew on them before biting into a slice of lemon. The citrus miraculously tasted deliciously sweet, our tastebuds tricked by synsepalum dulcificum, the 'miracle berry'. It's hard not to think you're in the Garden of Eden when fruits this marvellous grow all around you, and in a country where organic produce and renewable energy sources are the norm, these farms showcase the myriad benefits of the pura vida, both for our wellbeing and for the environment.
Lifelong good living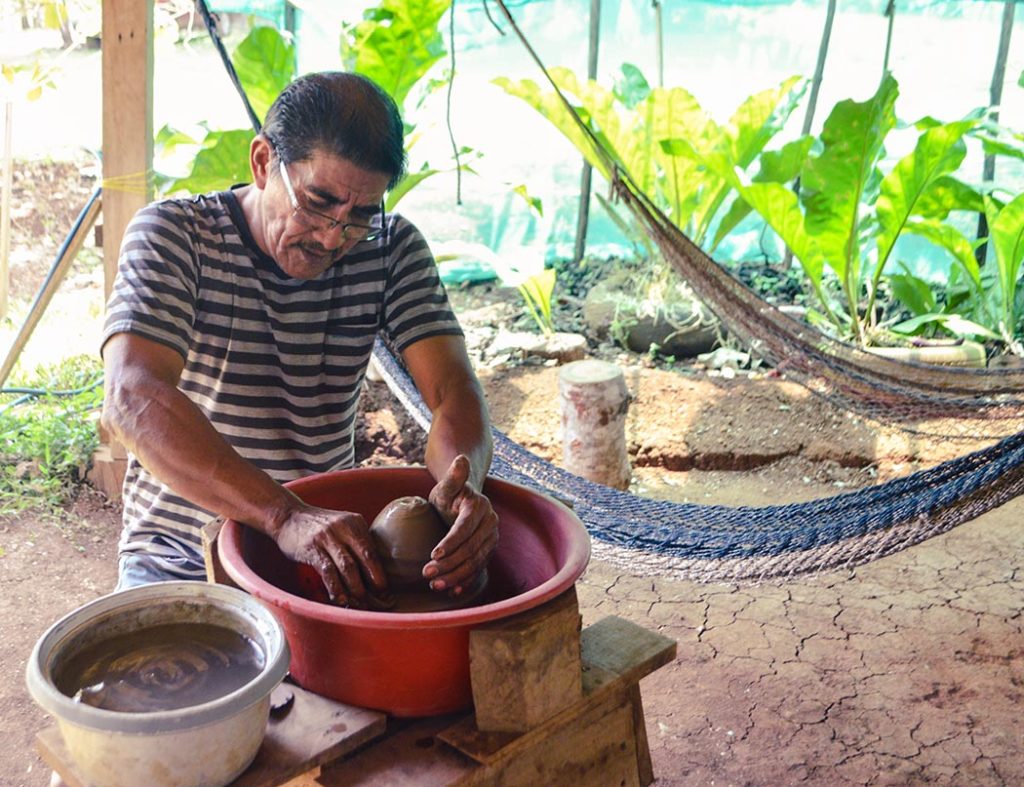 If there's anyone who might know a thing or two about living well, it's an inhabitant of a Blue Zone – the regions of the world where people live the longest, and are said to know the secrets to a lengthy, happy life. There are only seven Blue Zones in the world, but Costa Rica, of course, is home to one of them – the Nicoya Peninsula, where locals frequently reach the grand old age of 100. Some say it's due to the calcium-rich water, but I think it's the pura vida philosophy. As well as exploring the peninsula's tropical beaches and yoga retreats, you can get a lesson in wellness just by meeting the locals. The Matambu Indigenous Reserve welcomes guests on guided walks along ancient trails, and after our hike I met Ezekiel Aguirre Perez, a member of the indigenous council and an avid potter. He makes simple, beautiful clay pots, some with whimsically carved faces, in the same way as his ancestors did centuries ago. As he sat at his wheel, his tiny grandson at his feet, I asked him if he knew the secret to the happy lives of Costa Ricans. "We get a lot of sleep. We eat good fresh food. We respect the earth. And we value the little things in life," he said. A wellbeing mantra to live by if ever there was one.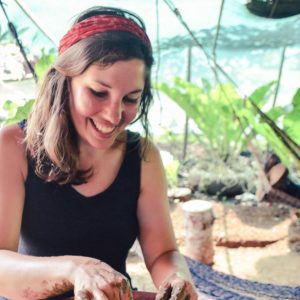 Sian Lewis
Sian Anna Lewis is an award winning blogger and a travel journalist who is obsessed with all things outdoor adventure. Her blog The Girl Outdoors has picked up multiple awards, including Travel Blog of the Year 2018, Travel Blog of the Year 2015 and Outdoor Blog of the Year 2014. 
Find more wellness adventures in Costa Rica: