Finding adventure with Chloe Gunning
Top UK travel blogger Chloe Gunning can't get enough of adventure in Costa Rica. She shares her top adventure experiences with us…
What comes to mind when you think of Costa Rica? Sloths hanging lazily from trees as lurid green frogs hop along the ground? What about mysterious cloud forests, thunderingly loud waterfalls and epic volcanoes? Or adrenaline-fuelled activities that make you feel alive?
Well, for me, it's all of these things, and more.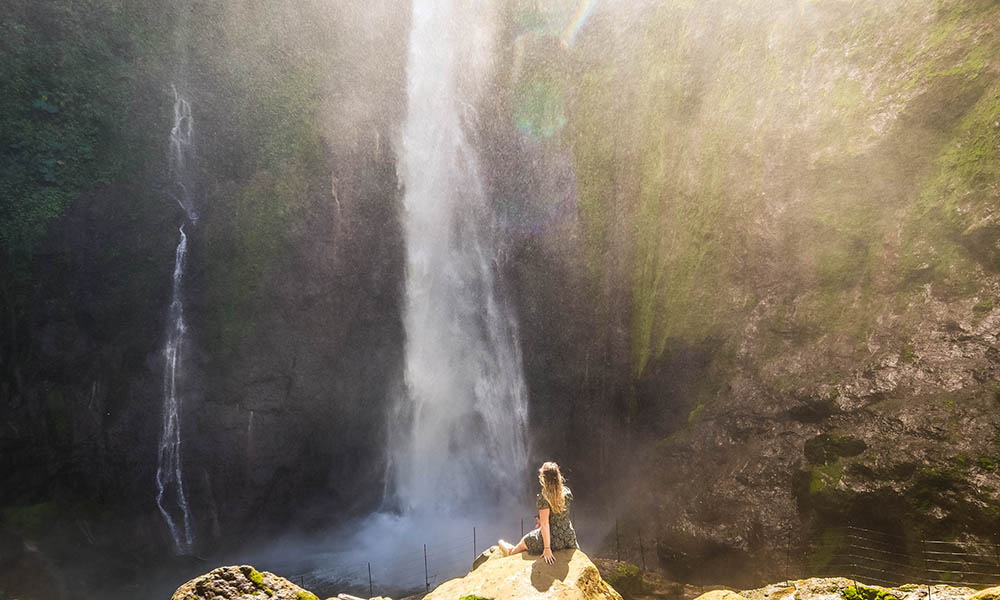 I think Costa Rica is one of the most beautiful and peaceful countries in the world. It's a hugely biodiverse wonderland of plants, trees and creatures great and small. It's also a place that is aware of how special it is. While we watch numerous countries scrabbling to tackle environmental issues before it's too late, Costa Rica has been leading the way for years. Over 28% of the country's land is protected and 99% of its energy comes from renewable sources.
With so much natural beauty on the doorstep, it's a country that lends itself to outdoor adventures. Zip lining, white water rafting and surfing spring to mind, but adventures span more than mere adrenaline activities.
It's a safe destination, and ideal if you're considering a post-pandemic getaway. Whether you're looking for a wellness break, fancy getting close to nature or challenging yourself physically, these are a few of my favourite Costa Rican adventures.
One piece of advice before you go? Learn the phrase "Pura vida". It means "pure life", but it's more than just a saying, it's a Costa Rican way of life. It's hi, how are you, no worries, and ultimately, it's a reassurance that life is for living… and that's one thing Costa Ricans definitely know how to do!
Wildlife adventures in Costa Rica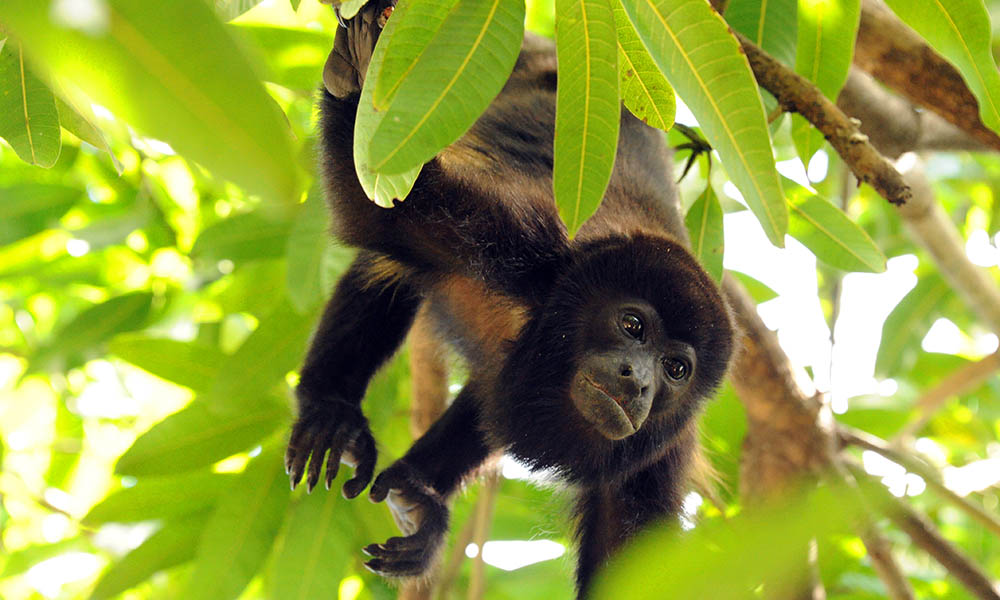 Waking up to the dinosaur-like roar of howler monkeys isn't something you forget in a hurry! It was 4am and this was the start of a nature-packed day exploring Corcovado National Park. One of the best places in the world to see creatures in the wild, Corcovado is a paradise for whales, turtles, monkeys, snakes, frogs and birds.
"Look!" our local guide shouted as he pointed up at the trees. We'd only driven 3 minutes from the entrance of our Corcovado eco-lodge and we were already being entertained by scarlet macaws flapping from tree to tree.
We spent the next few hours hiking with a local guide through thick rainforest, spotting all four of Costa Rica's varieties of monkey (squirrel, spider, howler and white-faced capuchin), coatis, agoutis, macaws, snakes and Halloween crabs. We ate lunch on the beach, taking in the scenery, and eying the waves for whales breaching.
That evening after dinner I had another memorable meeting with a local. A frog had decided to park up in the middle of my bedroom door. As his eyes glinted in the moonlight, we had a short stare off competition (the frog won) before we hopped off in our own separate directions.
Chance wildlife encounters like this happen frequently in Costa Rica. On my first trip I remember visiting a coffee plantation and spotting two sloths in a tree by the car park! You can't predict when or where you'll see something special, but I guarantee you will.
Adrenaline adventures in Costa Rica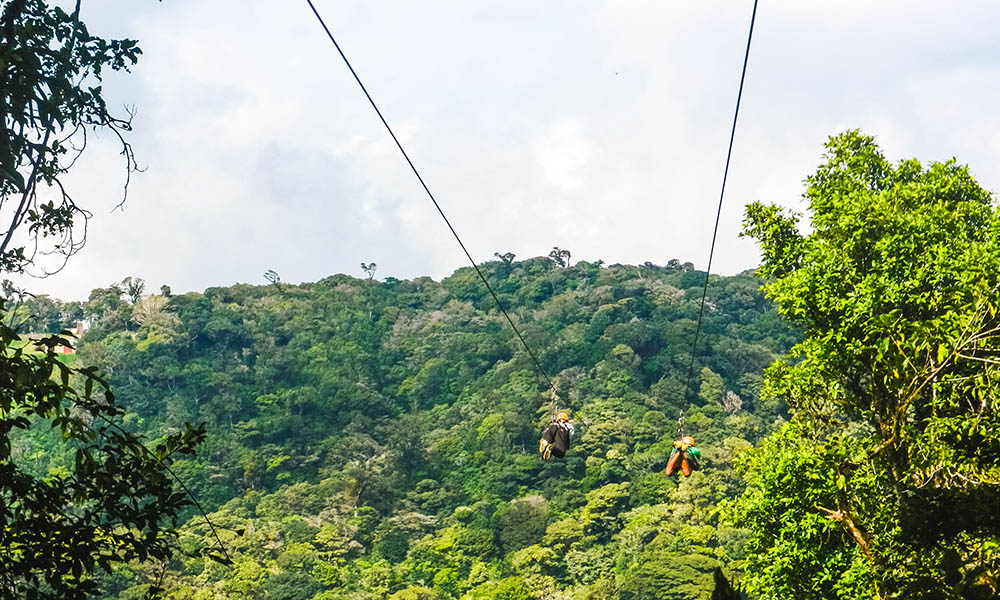 If, like me, you crave adrenaline from time to time, then you're going to fall in love with Costa Rica. The country's spectacular landscapes lend themselves to a range of activities, including canyoning, zip lining, white water rafting, surfing, scuba diving and mountain biking. 
I chose to scream my way along Central America's longest zip line (1590m long) at 100% Aventura in Monteverde. After exploring the lush cloud forest on 10 different zip lines, I reached the course's terrifying finale. Ahead of me were two options: a palpitation-inducing 148 ft free fall via the legendary Mega Tarzan Swing, or the rather more appealing wimp's staircase down to the ground.
Harnessed up, I walked along the platform, and peered over the edge. My tummy took a dive, my heart raced faster, and then I stepped out into thin air. My high-pitched screams echoed around the forest, as I swung from side to side. Would I do it again? Probably not! Am I glad I did it? Hell, yes!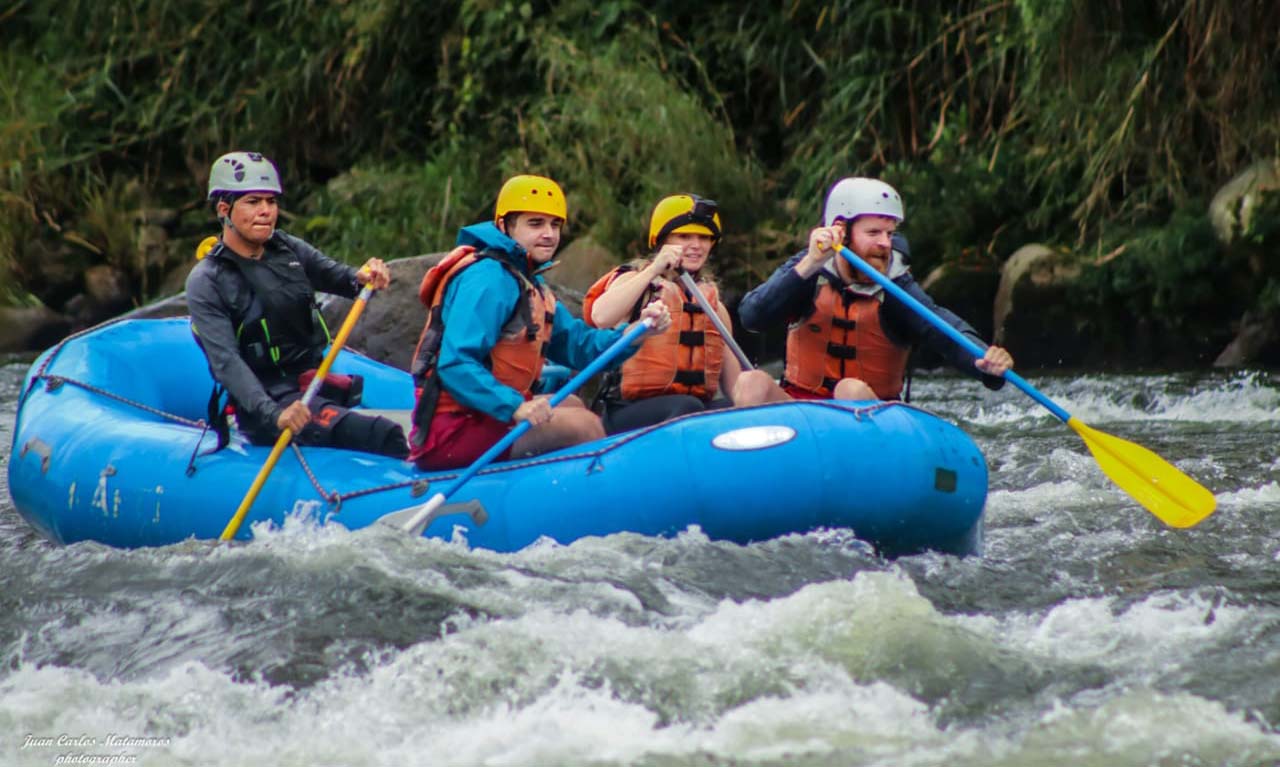 If you're happier out on the water, Costa Rica's rivers are ideal for white water rafting. The Pacuare River is known for its ferocious rapids, but being a complete newbie, I decided to ease my way into the sport with a trip down the Orosi River.
I eyed the wild water anxiously as I got kitted out. Within minutes of being in our inflatable raft, paddles in hand, we were all thoroughly drenched. It was fast but fun, and a real team challenge. I whooped and screamed as we navigated the river's twists and turns, getting splashed over and over. Would I do this one again? 100% yes, in a heartbeat!
The adventurous landscapes of Costa Rica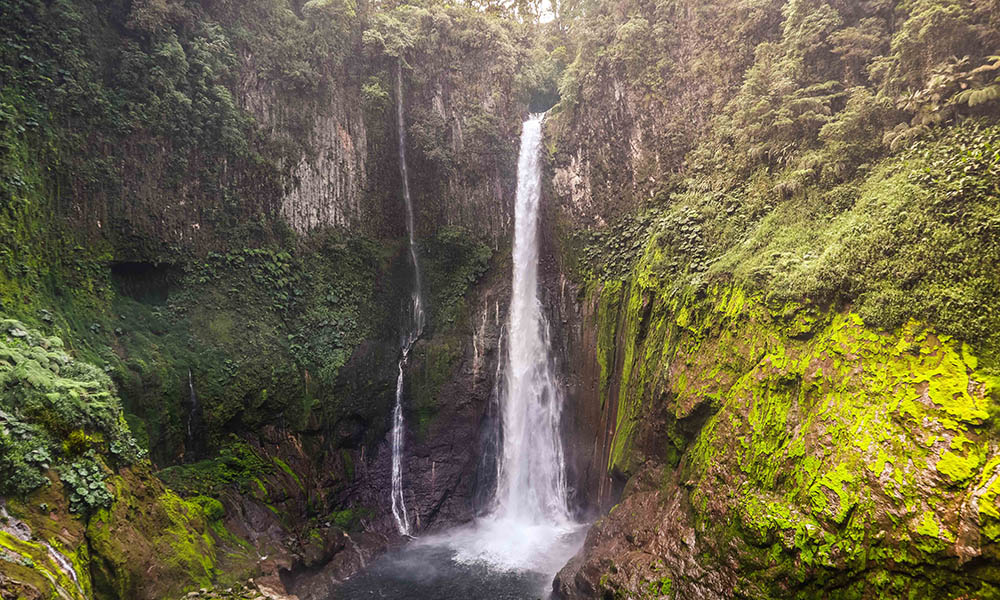 With so much diversity, this is a country where you'll never tire of the views. From rugged beaches and coral reefs to misty cloud forests and active volcanoes, keep your camera close at all times.
To truly feel the force of nature, spend a few days in La Fortuna. The looming 1,670m peak of Arenal Volcano is easily one of the most impressive sights you'll see in the whole country. From there, you can trek to La Fortuna waterfall. You'll hear the sound of the plummeting weight of water long before the 75m cascade comes into view. If you've worked up a sweat, you can cool off with a dip too.
A less-touristy and even more spectacular option is Catarata Del Toro, in Costa Rica's Central Valley. With a 90m drop into a volcanic crater, you'll feel the spray as you descend to its base.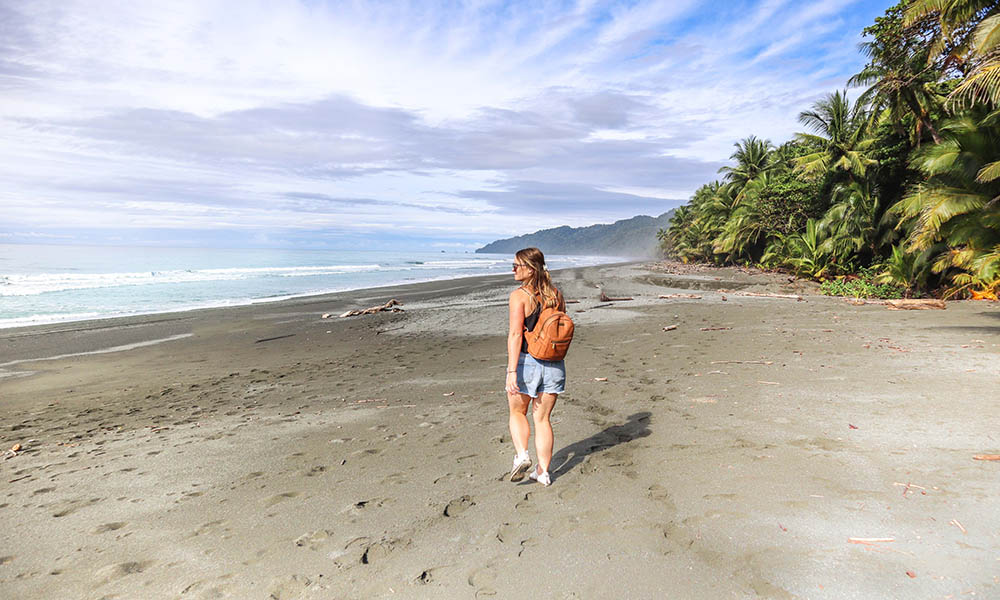 If you're a beach lover, there are plenty of appealing options too. Puerto Viejo de Talamanca on the country's east coast oozes character. I arrived to find a colourful Rasta culture, accompanied by the scent of jerk chicken and a reggae soundtrack. With palm-fringed beaches, white sand, turquoise water and coral reefs, it's every bit as heavenly as it sounds.                                  
Those looking for waves should head over to the Pacific Coast, where laid-back surf towns line the shores.
Wellness adventures in Costa Rica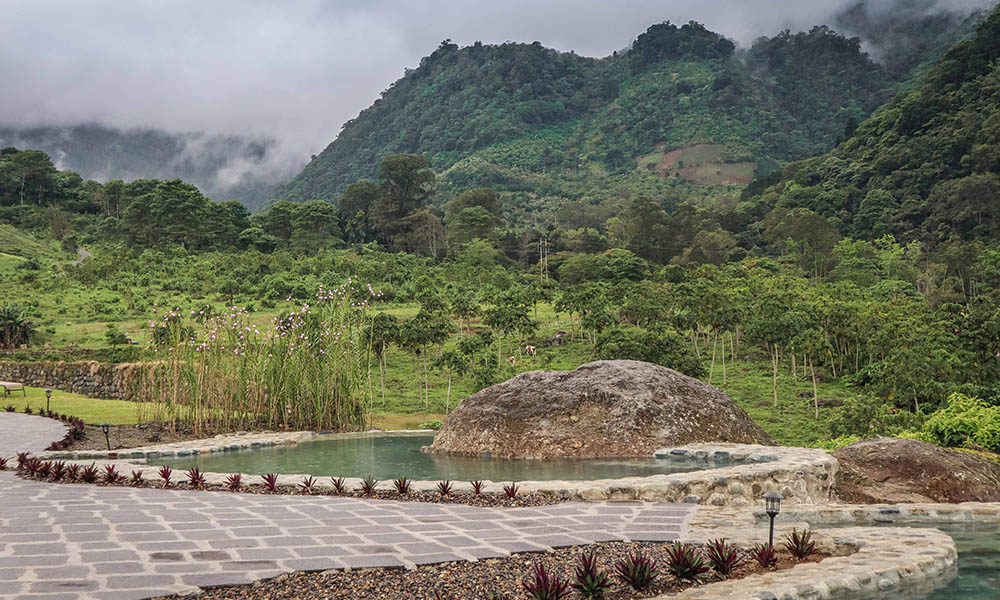 For a small country, Costa Rica offers a broad range of experiences. Unsurprisingly, wellness and yoga breaks are growing in popularity. After all, this is the ideal country to break your routine, immerse yourself in nature and enjoy a break from screens and stresses.
One of my favourite relaxation spots is the thermal mineral spa at Hacienda Orosi. After an adrenaline-filled morning rafting down the Orosi River, this was the perfect place to unwind. The waters here have a high concentration of minerals including calcium, magnesium and potassium, and are known for improving cell regeneration.
As I eased myself into one of the many hot pools (with temperatures between 32C  and 38C) I was met by yet another spectacular view. This spa is located up in the hills, with views over the valley and low hanging clouds lingering in the sky. What a place!
Food adventures in Costa Rica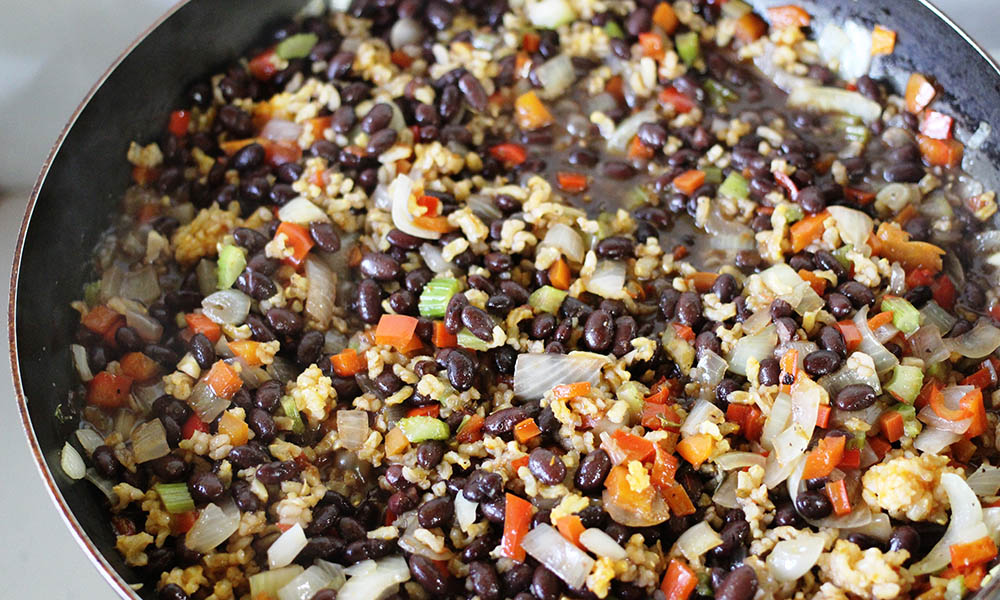 There's an underlying theme to most of my trips – food. I'm fascinated by world gastronomy and love to get to know a country via its local specialities. Fuel for many of my adventures in Costa Rica came in the form of gallo pinto – a flavoursome dish of rice and beans, or a casado – a lunch plate of grilled meat or fish, with gallo pinto, salad and often accompanied by fried plantains.
If you want to spice it up a little, impress the locals by asking for some Salsa Lizano. This curry-like condiment enhances any savoury dish. If you need proof of how much I like it, I returned with two bottles in my suitcase!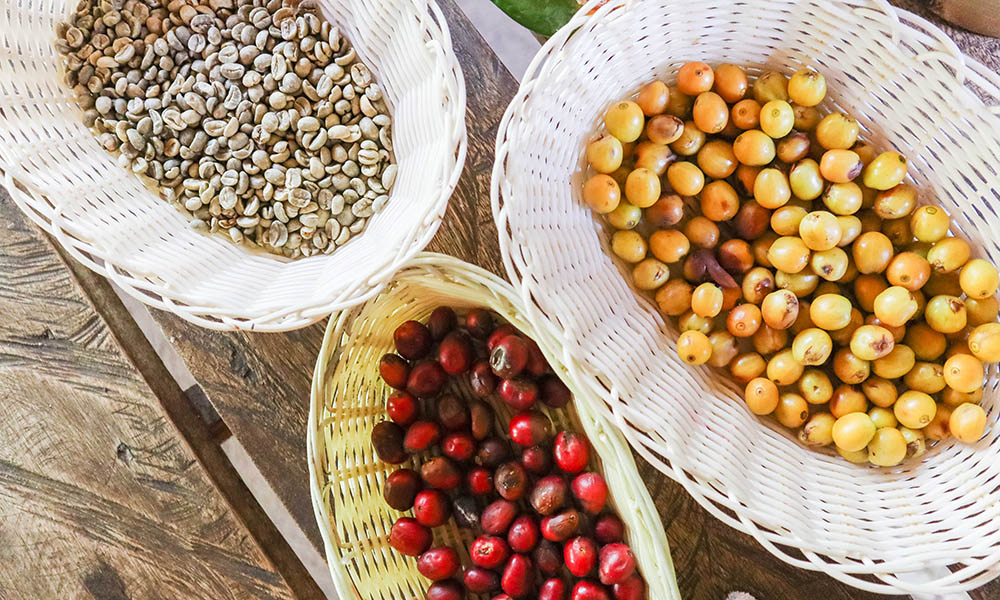 When it comes to gastronomic adventures, there are a couple of things to focus on: coffee and chocolate. I've been on two coffee tours now, one in Naranjo and another in Monteverde (where I also saw how chocolate was made). From picking the coffee cherries, to sorting, drying and roasting, it's amazing to follow the process from bean to cup.
For a greater caffeine fix, stay at Chayote Lodge – a unique hotel set amongst coffee fields, with design elements referencing the nation's coffee culture. Don't worry, you won't go to sleep buzzing!
Costa Rica is country made for adventures. The kind of adventure you choose, depends on you. Regardless of what you pick, you'll return home with a suitcase full of stories, and perhaps a few bottles of Salsa Lizano too!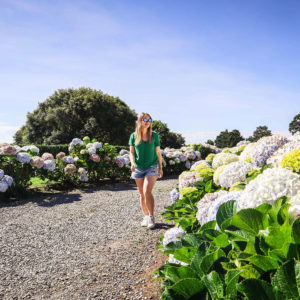 Chloe Gunning
Chloe Gunning is a top UK travel blogger with a passion for adventure, food and memorable experience. Since 2014, she has been travelling full time all over the world. Costa Rica is a place that keeps her coming back for more.