Costa Rica: Sensational & Sustainable
Co-founder and Editor-in-Chief of Wanderlust Magazine, Lyn Hughes, was lucky enough to stay in one of Costa Rica's top eco-lodges, Pacuare Lodge. Here, Lyn shares why an eco-lodge stay in Costa Rica is so good for the environment and for those with an adventurous spirit…
Costa Rica has a superb range of accommodation including super world-class eco-lodges which combine rustic but comfortable accommodation with beautiful settings and a range of natural activities. They are usually sustainable but do check that they are recognised by the Certification for Sustainable Tourism Program (CST.)
Pacuare Lodge is the perfect example of this. A luxury ecolodge, it is set on the banks of the Pacuare River in harmony with nature. The lodge's environmental credentials are pretty impeccable, too and it has the highest level of certification, as well as having won numerous global awards.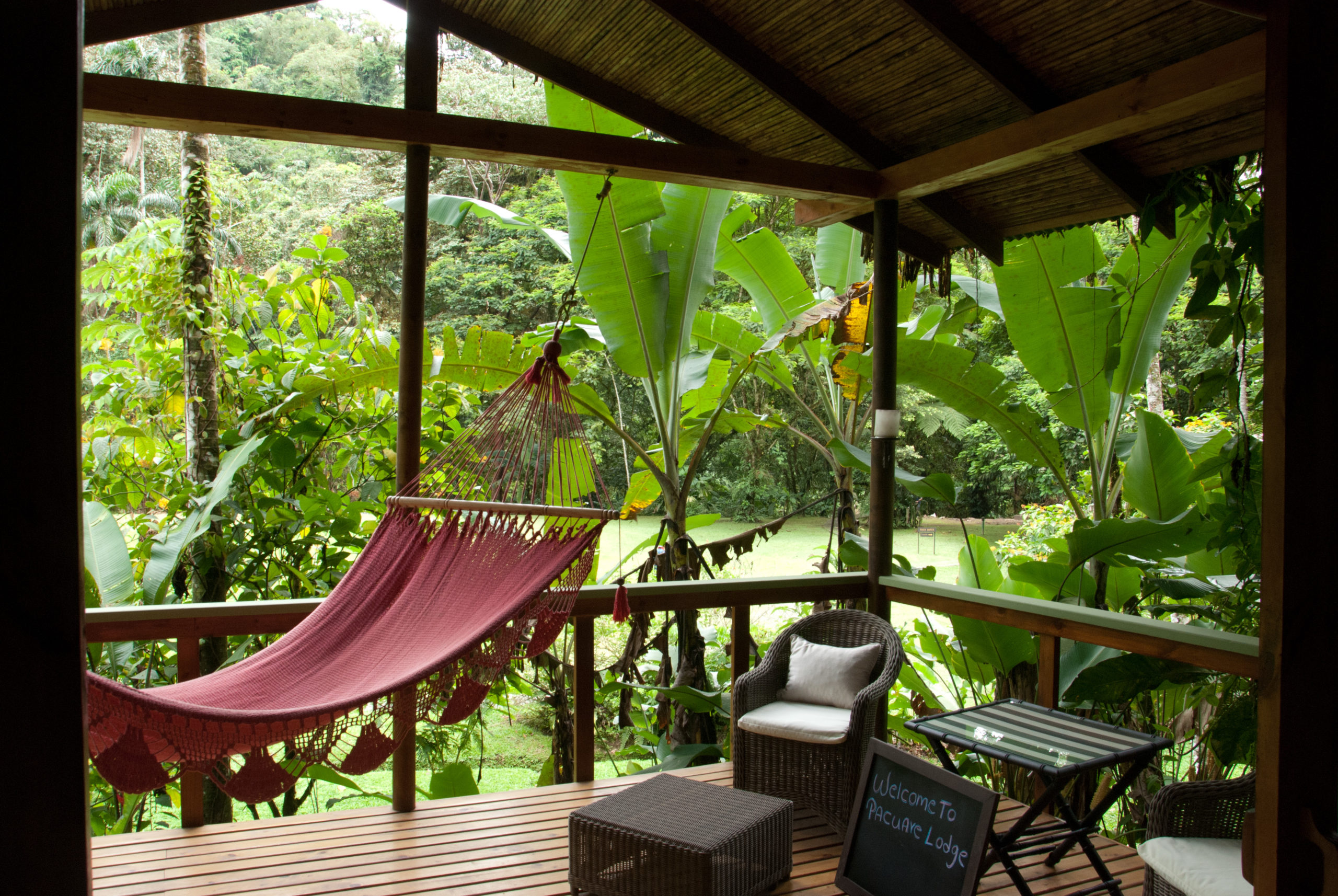 Founded in 1995 by Robero Fernandez, Pacuare Lodge now owns 340 hecatres of land. Some of this was previously farmland but has been replaced with native trees. Other parts were due to be felled but have been saved.
Howler monkeys have been reintroduced here and it runs a jaguar research programme, with camera traps set up around its grounds. It's believed that the density of jaguars is really high, and that there are a least two "black" jaguars in the area. Known as black panthers, they are secretive and rarely seen.
I was lucky enough to spend a few days there and it was an experience never to be forgotten. Lying in my beautiful villa made from sustainably-garnered wood I could hear the river roaring outside. I had my own private plunge pool, and one afternoon was in there sipping wine as warm rain poured down; never forget that it rains in a rainforest!
I was conscious of being surrounded by wildlife even if I couldn't necessarily see it, with armadillos, tapirs, jaguarundis, agoutis and ocelots all seen on the camera traps. A small sandy beach along the river revealed animal tracks each morning; one day while I was there puma tracks were found.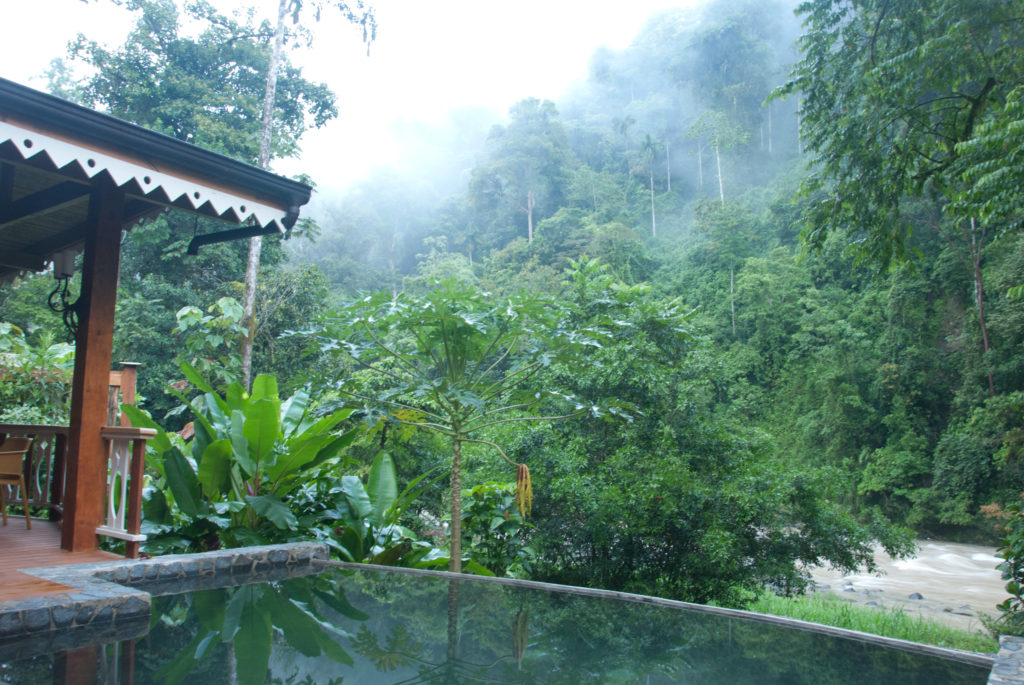 One animal that I did get to see came as a bit of a surprise. Sitting having a pre-dinner drink in the candlelit bar one evening, a movement caught my eye as a furry mammal appeared in the bar. Looking like a cross between a mongoose and monkey, it was a kinkajou, more usually found up in the forest canopy where it uses its prehensile tail to hang from branches. Here, it strolled along the banisters and beams of the bar and restaurant before nonchalantly heading back out into the night.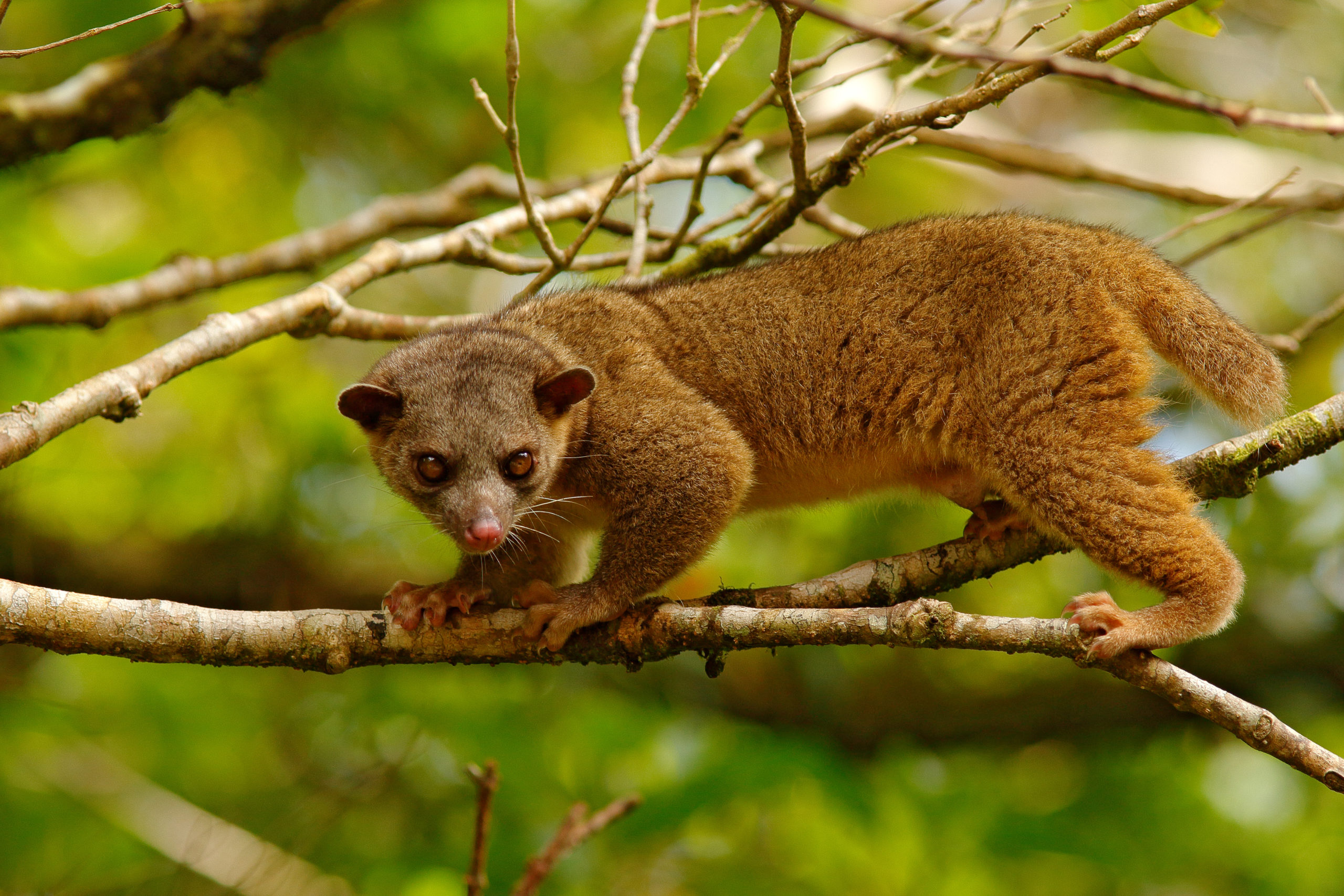 By the end of my stay at Pacuare, my skin was dewy soft and I realised that I felt energised, possibly due to all the oxygen from the trees. The phrase 'pura vida', suddenly made sense as that was what I was feeling.
Here are nine of the experiences that Pacuare Lodge offers and that helped me feel so good: 
1. Arrive in style
Pacuare Lodge  has a unique way of arriving there – rather than driving, you take a white-water rafting trip! Whether you have rafted before or not, this is the perfect way to commune with nature and appreciate its grandeur as the boat takes you past rainforest-clad banks. The rapids give you an adrenalin boost too, and by the time you arrive at Pacuare your eyes will be shining.
2. Zipline adventure
Most of the action in a rainforest takes place up in its canopy. Pacuare has its own zip wire experience. Taking off, you get dramatic views as you whizz down along the cables, ending up close to the lodge itself.
3. Enjoy the canopy restaurant
Pacuare also offers a unique dining experience – enjoying your meal up on a treetop platform known as El Nido (the nest). Set 20m up a ceiba tree, you reach it by zip wire, and eat your breakfast or lunch to the sights and sounds of the canopy.
4. Eat your heart out
Food is an important part of any great trip, and Pacuare Lodge certainly scores on that front with its cuisine worthy of a top restaurant. Everything is fresh and packed with flavour; not surprising when they grow most of their own fruit and vegetables and supplement it with organic produce from local farmers. Guests are asked to select their choices ahead of the meal so that as little food as possible is wasted.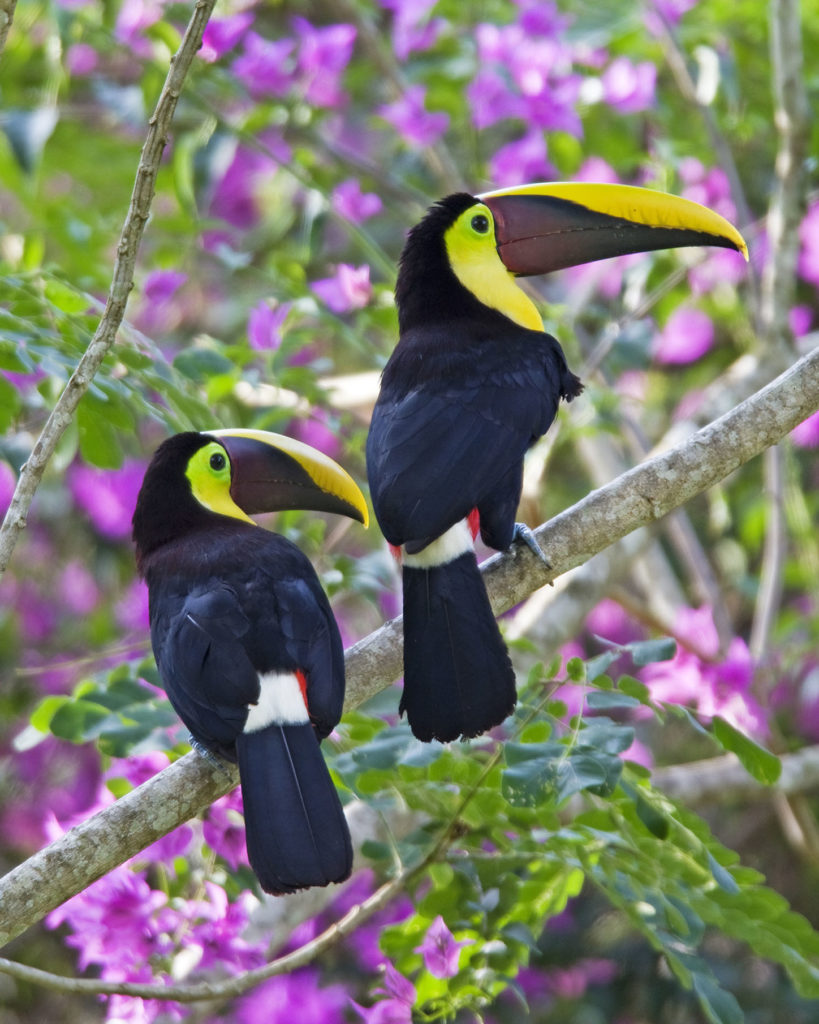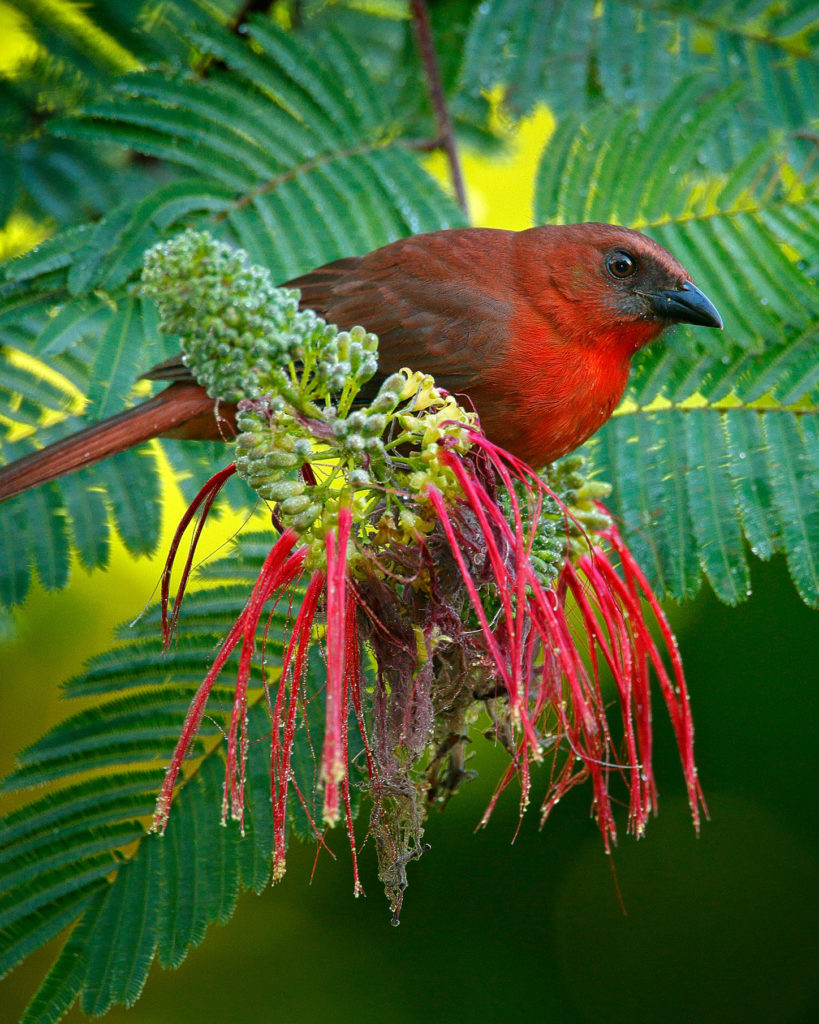 5. Discover culture on a hike
The local Cabecar Indians have lived in the area for many years. Their remote location has helped them to maintain their customs, language and culture. Hikes can be taken from the lodge to visit them, although these are quite challenging and physically demanding. One of the most rewarding follows an ancient track known as the sendero de las mulas used for generations by the Cabécar. Further trails climb through the Nairi Awari Indigenous Reserve to a hidden waterfall. The route back includes a visit to a Cabecar community village.
6. Visit a traditional house
For an understanding of traditional Cabecar culture, without a challenging hike, a visit can be made to a traditional thatched house that has been built within Pacuare's land. There, the son of a local shaman gives an insight into his people's culture and customs.
7. Go on a village excursion
Most of the people who work at the lodge are from the nearby village of Bajo del Tigre. An excursion there starts by being winched across the Pacuare river in a gondola suspended from a steel cable. In the village you can visit a local family's home, try a typical snack and also visit the local one-room schoolhouse.
8. A birdwatcher's paradise
Costa Rica is justly famous for its birds, with over 900 species recorded. The forest around Pacuare is alive with avian life and early morning birdwatching with a naturalist guide can be arranged. Species which can be seen include sun bitterns, black-cheeked woodpeckers, red throated ant-tanagers, and various species of toucan.
9. Yet more whitewater rafting!
While the rapids to access the lodge tend to be Class II and Class III (novice to intermediate), downriver of the lodge the water gets faster and the rapids are class III and IV. Spend the day on a roundtrip or use it as your grand finale to leave the lodge.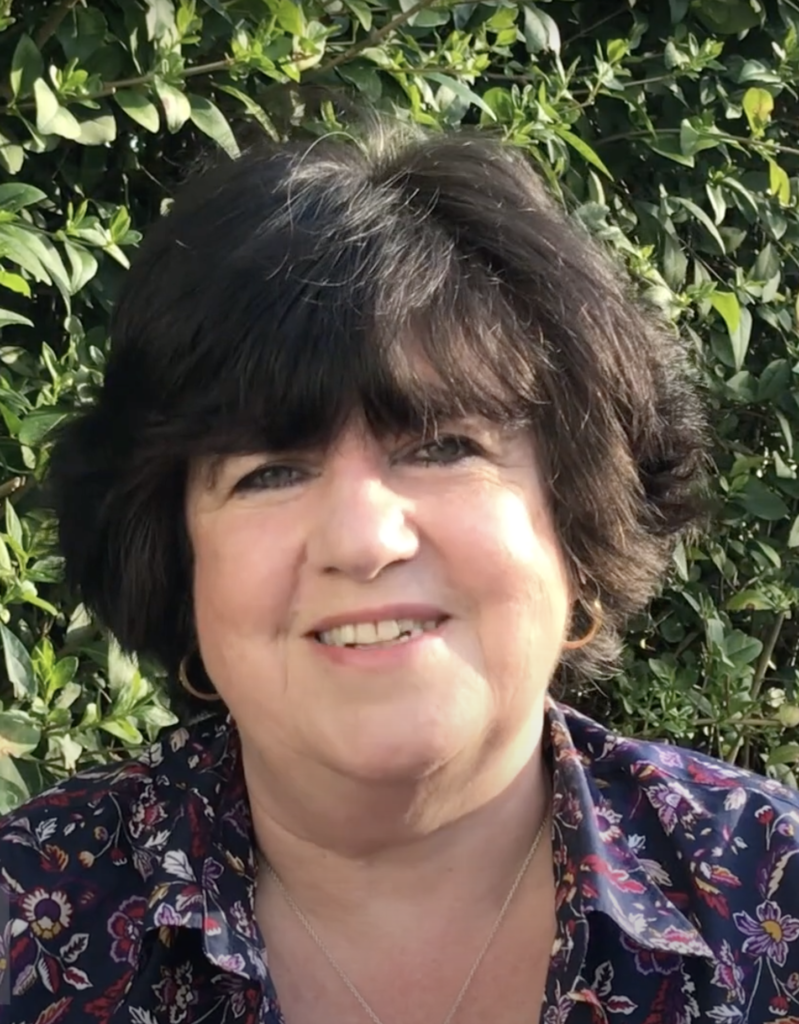 Lyn Hughes
Lyn Hughes is the co-founder and editor-in-chief of award-winning travel magazine, Wanderlust.
Sustainable travel is something that has always been close to Lyn's heart, which is why she loves Costa Rica and enjoyed her stay at Pacuare Lodge so much.