Wildlife in Costa Rica: what to see where and when
Whether you want to see a smiling sloth, hatching turtles or the emerald green flash of a quetzal, Sarah Riches can help you find them in Costa Rica…
Wildlife is unpredictable, but isn't that part of its appeal? It's so much more special to encounter a quetzal when you least expect it, or glimpse a whale during shoulder season.
Yet while it can never be guaranteed you'll see a specific species of wildlife, sea life or birdlife in Costa Rica, the central American country does guarantee you'll see something – and dolphins, monkeys, sloths and crocodiles are so common locals barely spare them a passing glance.
However, like humans, many species like to shelter from the midday heat or during the rainy season (May-mid Dec). Others, such as turtles, pass by only to nest or when migrating.
So up your chances of seeing your personal Big Five with this month-by-month guide…
January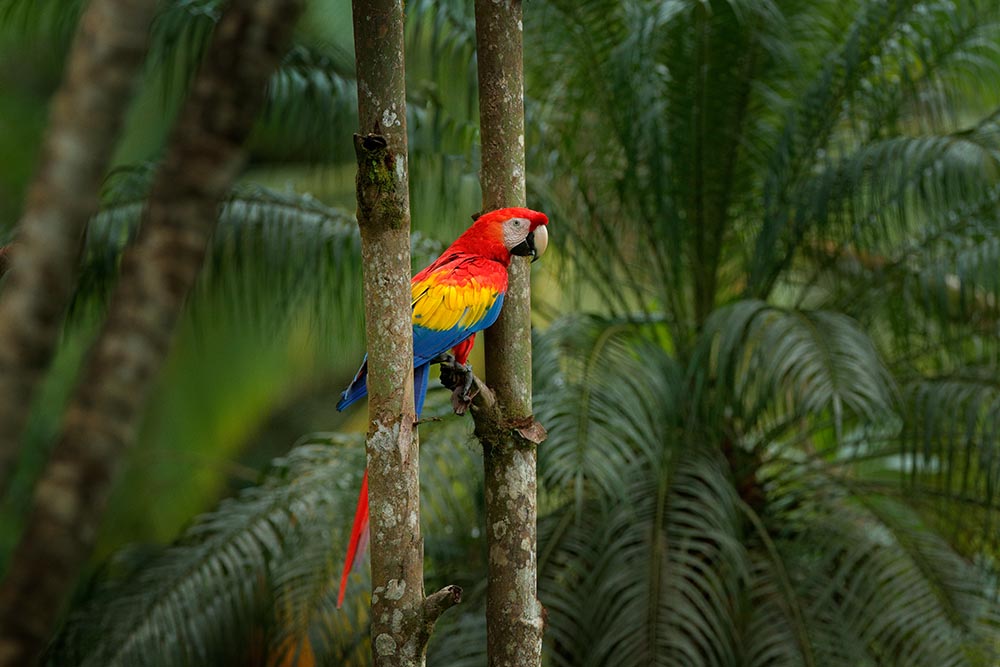 Sky
Visit in dry season (Jan-Apr) and you'll see herons, ducks and spoonbills around water and scarlet macaw in Manuel Antonio, Corcovado, Carara and Pal Verde National Parks (NP).
Jungle
Most jungle animals can be seen year-round. Look out for tapir in Corcovado NP; peccary (furry wild pigs) in La Selva Biological Station and Guanacaste and Barra Honda NP, and coati in Guanacaste and Cahuita NP.
Water
 November to March is the ideal time to spot humpback whales. Boost your chances of seeing them by diving off the Pacific coast of Guanacaste NP on the Nicoya Peninsula.
February
Sky
Hummingbirds breed November to March, so listen out for their calls around Arenal and in Monteverde Cloud Forest Reserve. You can see toucan there too, as well as in Manuel Antonio, Corcovado and Tortuguero NP.
Jungle
Ocelot – a small, wild cat with distinctive black streaks – can be spotted all year round. Increase your chances of seeing one by heading to Corcovado and Santa Rosa NP, Monteverde Cloud Forest Reserve and the mountains around Cerro de la Muerte.
Water
As well as humpback whales, September to March is the ideal time to see leatherback turtles in Corcovado NP, on Osa Peninsula.
March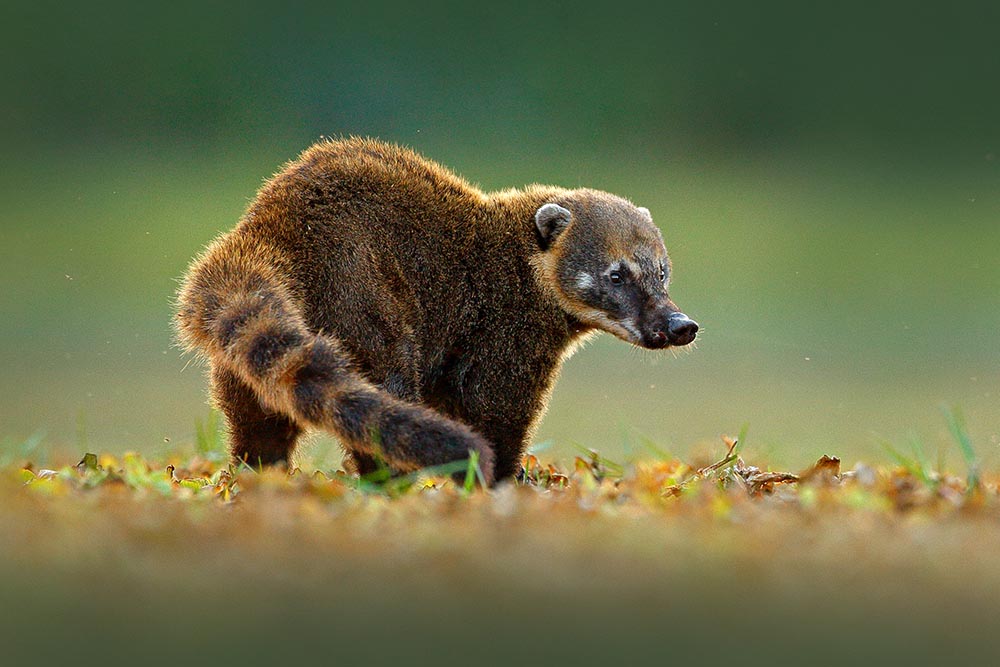 Sky
This month the sky is rich with hummingbirds, scarlet macaw and toucan. Quetzal can also be seen year-round in Quetzal NP, but as they lay eggs in March and April, spring is the easiest time to spot one.
Jungle
In addition to tapir, peccary and ocelot, keep your eyes peeled for white-nosed coatimundi (coati), a raccoon-like animal the size of a large cat. They're common, but most often spotted around Arenal, Monteverde and in Guanacaste, Manual Antonio and Cahuita NP.
Water
As well as humpback whales, September to March is the ideal time to see leatherback turtles in Corcovado NP on Osa Peninsula.
April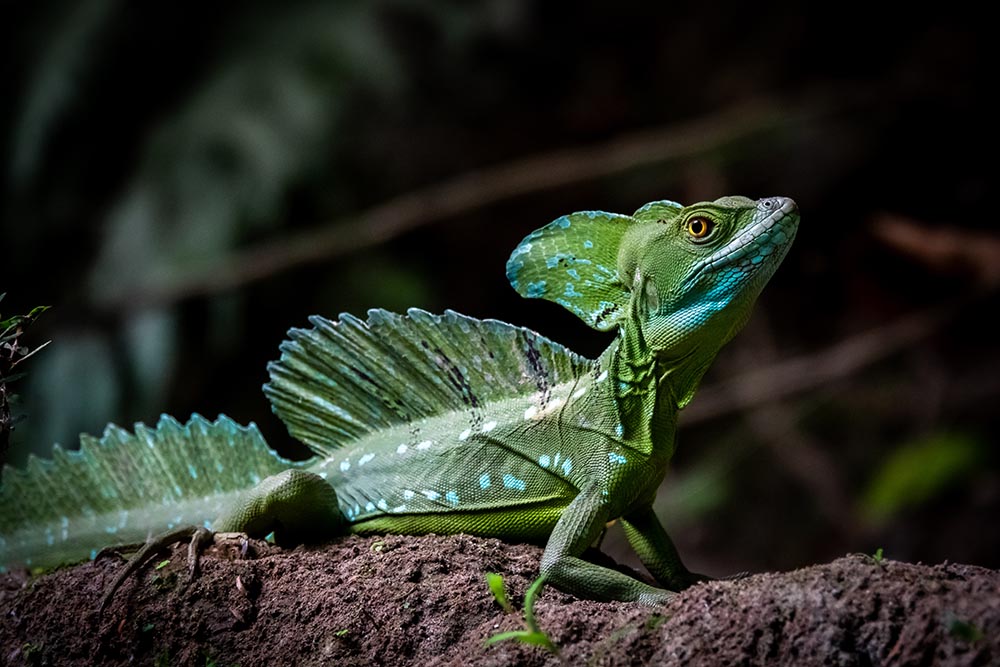 Sky
Twitchers can tick off hummingbirds, scarlet macaw, toucan and quetzal in April, which also has the added bonus of being the best month to see blue morpho butterflies in Tortuguero NP.
Jungle
Fans of reptiles should look out for iguana in Manuel Antonio, Arenal Volcano and Tortuguero NP and the Jesus Christ lizard – so called because it can walk on water – in Cahuita NP and on Osa Peninsula. You can spot both all year round.
Water
The dry season means better visibility under water, making it the best time for divers. If you want to see enormous manta rays, head to the Catalina Islands between December and May.
May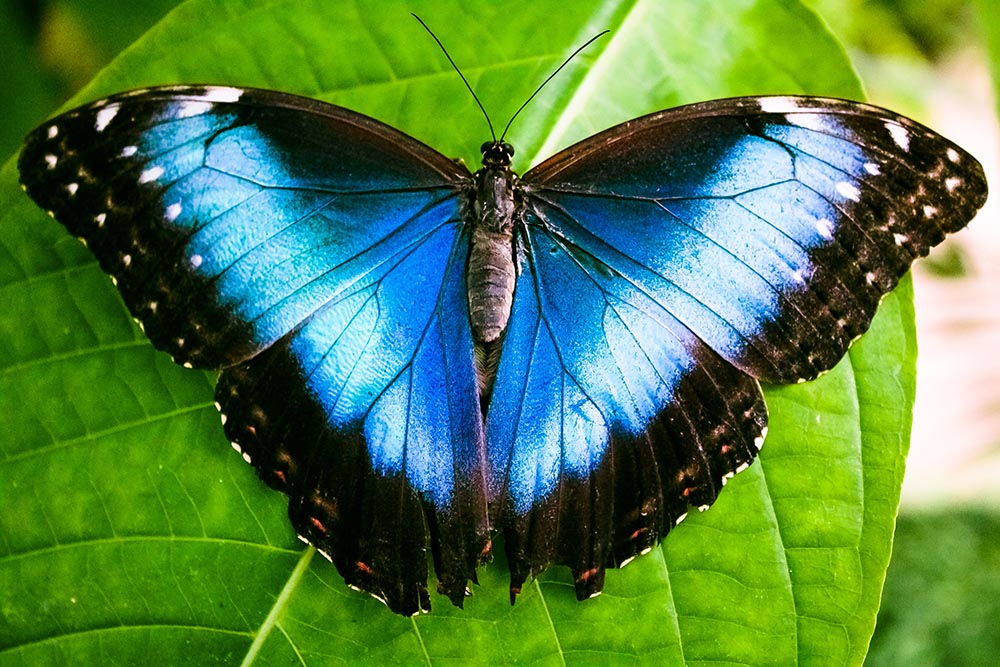 Sky
May is also an ideal time to see blue morpho butterflies. As well as Tortuguero NP, look for them dancing around La Paz waterfall in Poás Volcano NP and Monteverde Cloud Forest Reserve.
Jungle
A symbol of Costa Rica, the iconic red-eyed tree frog gets its name from its tomato-red eyes, which are used to startle predators. The male's distinctive mating call can be heard in May and June in Monteverde Cloud Forest Reserve and Tortuguero and Manuel Antonio NP.
Water
If you thrive on adrenaline, May to September is the season to dive with bull sharks, which are known for their aggressive nature. Watch them circle around you at Big Scare, a dive site off the Bat Islands. Strong currents – plus the fear factor – make it suitable for experienced divers only.
June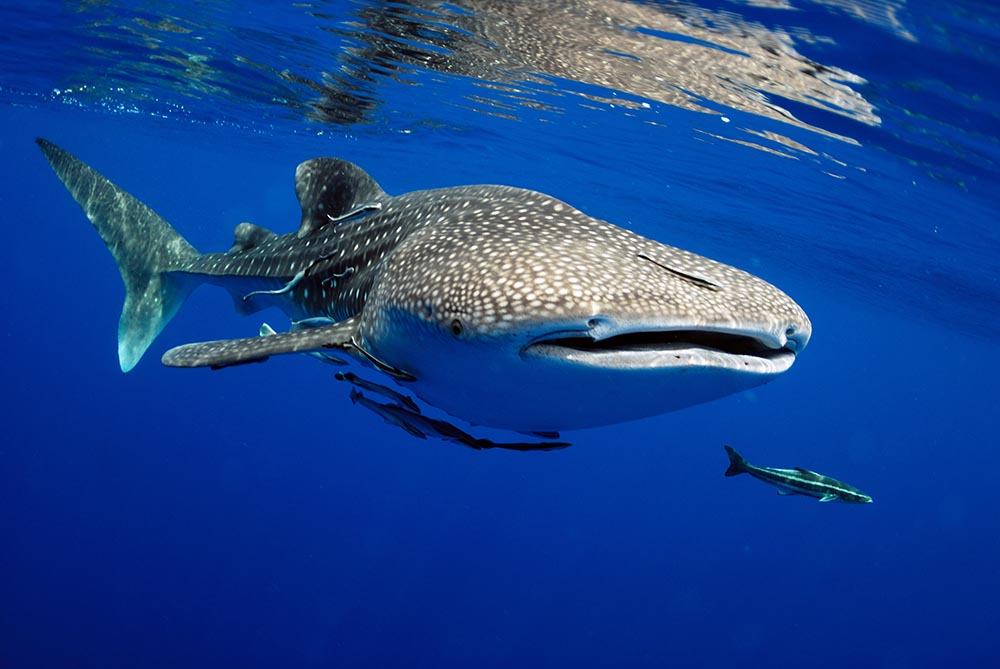 Sky
Once you've ticked scarlet macaw off your list – or noted it in your birding book – look out for the lipstick-red chest of a trogon. The best spots to glimpse one is Santa Rosa and Guanacaste NP.
Jungle
While monkeys like to shelter during rainy season, you'll see them everywhere in Costa Rica. Spider monkeys are the most common, as are howler monkeys – named after the guttural roar they make at dawn and dusk. Meanwhile, white-faced capuchin favour Osa Peninsula and Tortuguero, Monteverde, Manuel Antonio and Corcovado NP. The latter two parks are also home to squirrel monkeys.
Water
As well as bull sharks, divers can swim with whale sharks from May to August, particularly around Cocos Island, a remote UNESCO World Heritage Site.
July
Sky
You'll need to book a guided night hike if you want to spot oilbird, as its feeds at night. They're drawn to Costa Rica's wet season, and are most often spotted in Monteverde Cloud Forest Reserve.
Jungle
Named after the sharp horn that protrudes from its head, the rhinoceros beetle can't bite or sting you but it could give you a fright if you found one in your shoe. You can see them all year round, particularly in Cano Negro Wildlife Refuge and Tortuguero, Corcovado and Palo Verde NP.
Water
Tortuguero means turtle in Spanish, so Tortuguero NP is the best place to see them. The endangered green turtle can grow up to 120cm. To watch them dig nests on the beach or gawp at hatchlings making a mad dash for the sea, visit between July and mid-October.
August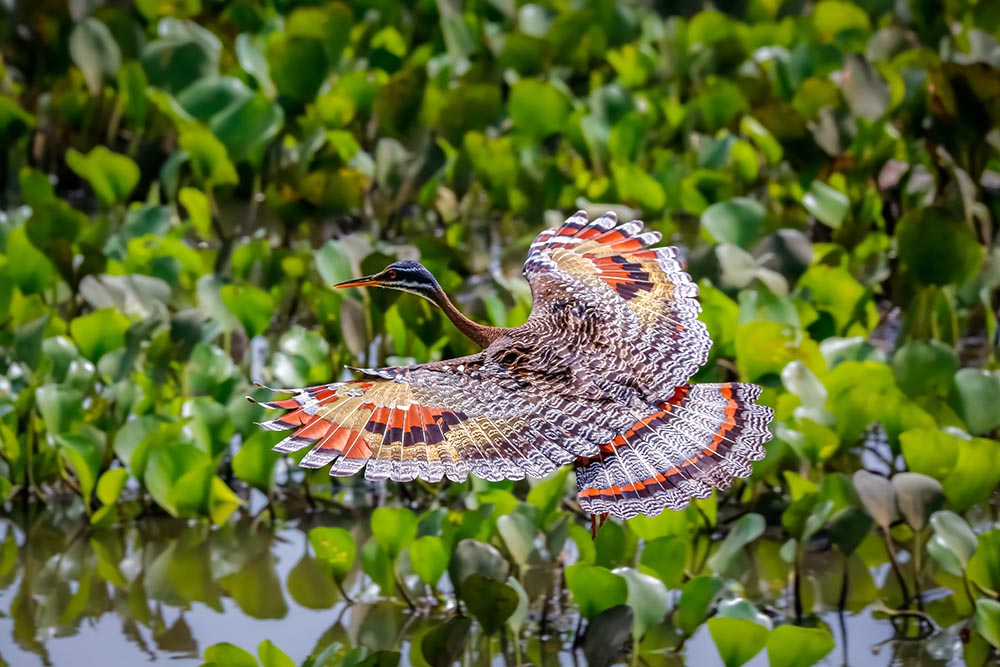 Sky
Sunbittern, with wings the colour of autumn leaves, can be seen in La Marta Wildlife Refuge close to Tapanti NP. Intrepid twitchers should also look out for fasciated tiger-heron, black and yellow tanager and russet antshrike all year round.
Jungle
Like monkeys, the two-toed and three-toed sloth like to shelter from the rain, but they're so ubiquitous you'll find one year-round if you look for them. They're particularly fond of Manuel Antonio, Monteverde, Corcovado and Tortuguero NP.
Water
As well as green turtles in Tortuguero NP, you can spot olive ridley turtles laying eggs in Ostional National Wildlife Refuge on Nicoya Peninsula between July and December.
September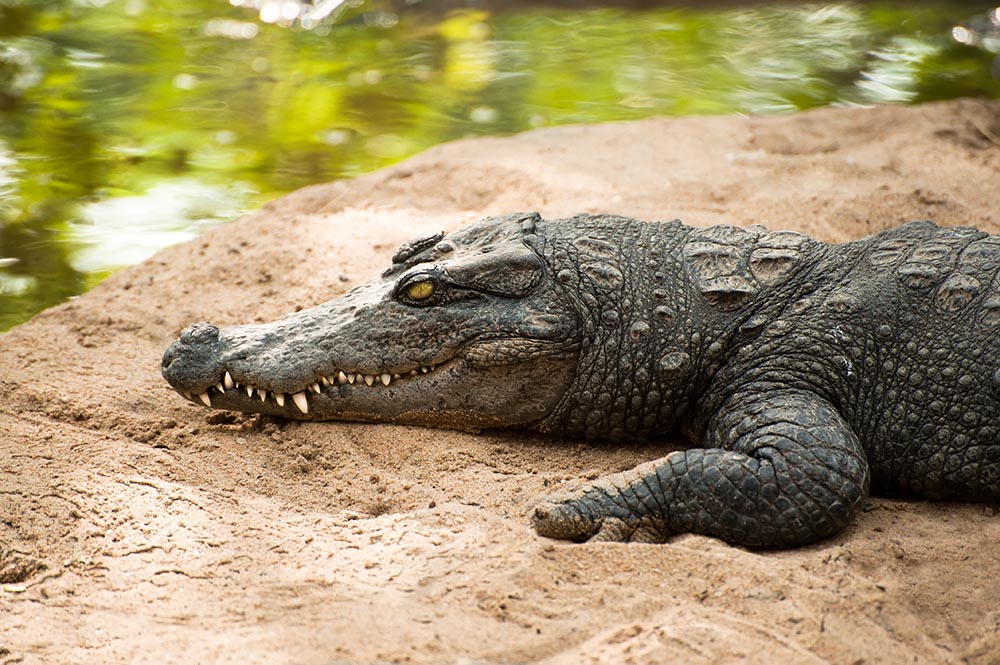 Sky
More rain means abundant food sources, so the rainy season is the perfect time to see many native bird species such as the endangered great green macaw. The colour of a lime, it can often be heard before it's seen. You might spot it foraging for almonds in Maquenque Wildlife Refuge or in Tortuguero NP in September and October.
Jungle
American crocodiles can be seen in rivers, swamps and lagoons any month of the year throughout Costa Rica. However, the best place to see a bask of the beasts – which can grow up to six metres – is below Tarcoles River Bridge near Carara NP. They can tolerate saltwater, too, so you may also see them in Palo Verde NP and on the beach in Tamarindo – which might make you think twice about napping in the sun.
Water
Named after its leather-like shell, the leatherback turtle can grow to more than two metres, making it the world's largest sea turtle. If you want to see them, visit Corcovado NP or Gandoca Manzanillo National Wildlife Refuge from September to March.
October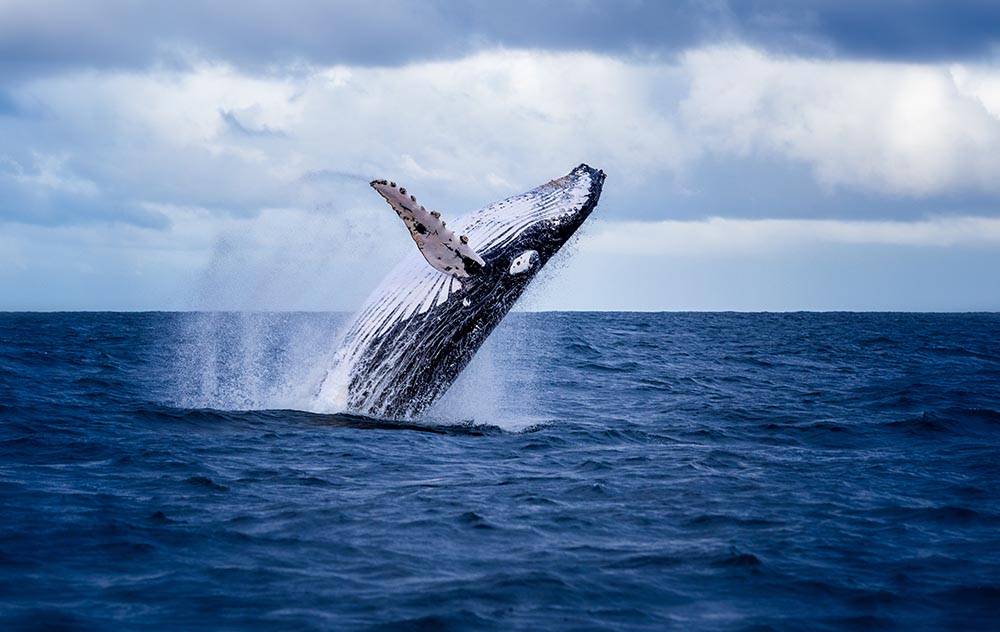 Sky
Twitchers are in for a treat in October, as migratory birds seek warmer weather. Maquenque Eco-Lodge near Maquenque National Wildlife Refuge has recorded 410 species of birds – about half of all the species that have been spotted in Costa Rica. These include birds of prey such as the peregrine falcon, black-chested hawk, double-toothed kite and red-tailed kite.
Jungle
As well as crocodiles, you can see caiman all year round, particularly in Tortuguero, Arenal Volcano and Corcovado NP. How does a caiman differ to a crocodile? Caimans are part of the alligator family, which means they prefer freshwater, they have a U-shaped snout, and only their top teeth show when their mouth is closed.
Water
While you can see humpback whales from November to March on the Pacific coast, from August to October you can see them on the Caribbean side, too. Where? You've guessed it – off the coast of Tortuguero NP, of course.
November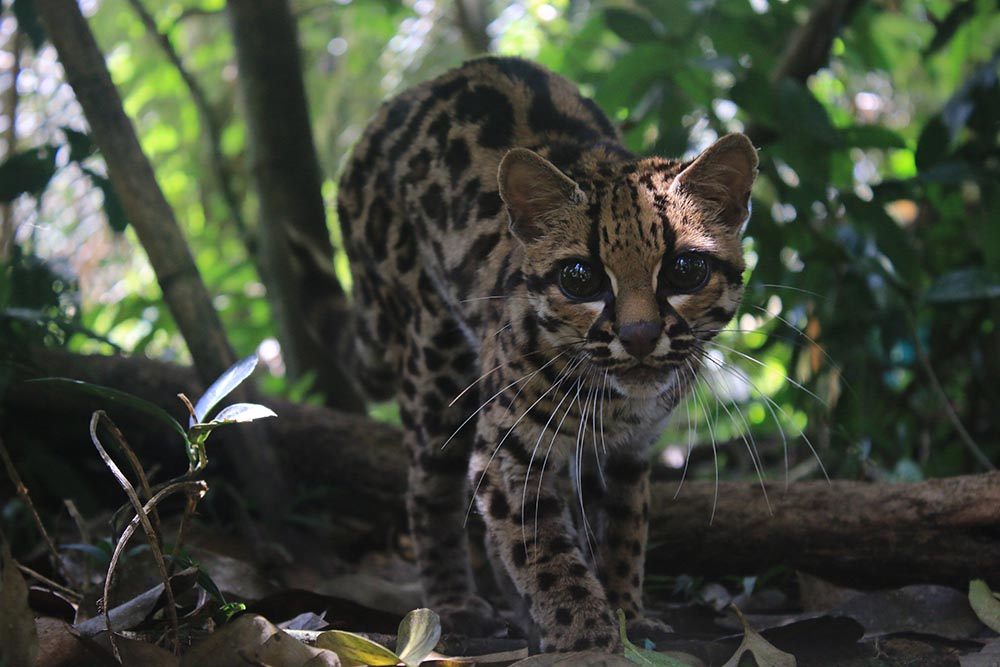 Sky
As well as birds of prey, November brings wren, cerulean warbler, scarlet tanager and black white-collared swift to Maquenque National Wildlife Refuge. You might also spot swallow including the blue and white, barn, bank and mangrove species.
Jungle
Margay can be seen year-round in Corcovado NP and on Osa Peninsula. While the wild cat's coat resembles an ocelot's, its body is smaller, with a shorter head, wider eyes and longer legs and tail. Another key difference is margay are almost solely tree-dwelling cats – so hire a guide if you'd like to spot one.
Water
Visit in November and you'll have chance to see leatherback turtles in Corcovado NP and Osa Peninsula, olive ridley turtles in Tamarindo.
December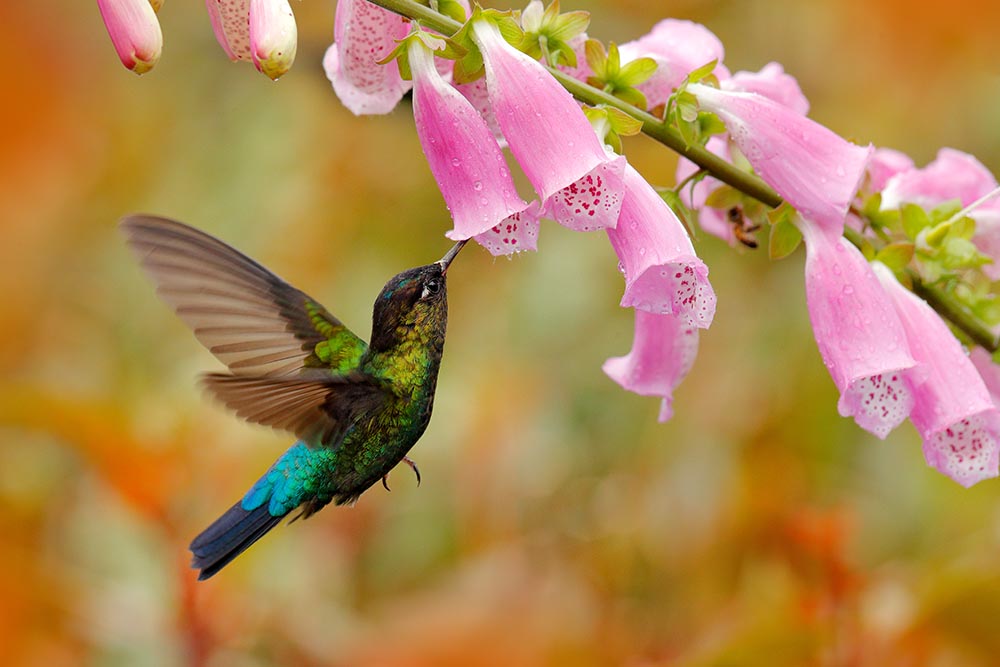 Sky
December is a transitional month, as it marks the end of the rain and the start of the dry season. Carry your binoculars and keep an eye out for hummingbirds around Arenal and in Monteverde Cloud Forest Reserve.
Jungle
If you hire a guide – and if you get lucky – you might spot a jaguar in Corcovado NP on Osa Peninsula. However, there's only thought to be around 30 left in the area.
Water
Like in November, the beginning of the dry season boosts your chances of seeing leatherback turtles in Corcovado NP and humpback whales off the Caribbean coast.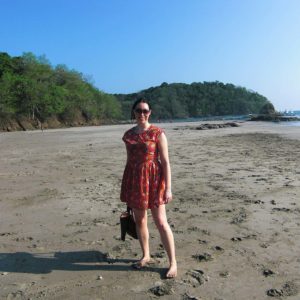 About Sarah Riches
Sarah is a travel journalist with a special interest in active, healthy holidays. She spent nearly a month in Costa Rica. She loved seeing a sloth on a night hike near Arenal, walks in Cahuita National Park and soaking in hot springs at night at Tabacon.
Find more adventure in Costa Rica